Americans Top Seattle, 5-2
Posted:
Updated: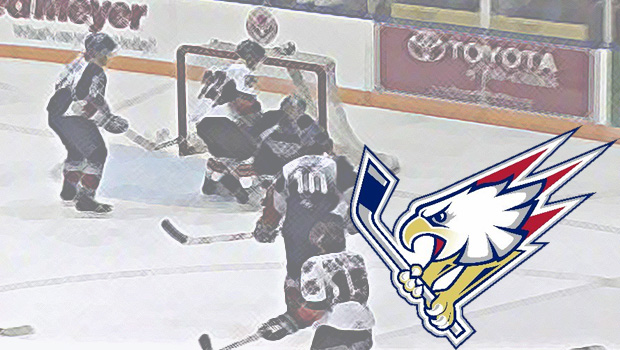 KENNEWICK, February 25, 2011 — The Tri-City Americans defeated the Seattle Thunderbirds 5-2 Friday night at the Toyota Center in Kennewick.
The T-Birds face the Portland Winterhawks at a special start time of 6:05pm Saturday at ShoWare Center. They then face the Everett Silvertips on Sunday at 5:05pm at ShoWare Center. This weekend is Hockey Challenge 2011 to support Ronald McDonald House Charities of Western Washington & Alaska.
Tri-City outshot Seattle 13-9 in the first period.
The Americans took a 1-0 lead 29 seconds into the second period on a power-play goal by Carter Ashton. Brendan Shinnimin and Adam Hughesman had the assists.
Seattle (22-30-4-5) quickly tied the game 1-1 with a power-play goal of their own at 1:24 of the second. Brenden Dillon had the puck at the left point. Dillon sent the puck to Marcel Noebels in the right circle. Noebels fed the puck to Ryan Button at center ice just inside the blue line. Button skated in and wired a slap shot past Tri-City goalie Chris Driedger high.
Tyler Schmidt scored at 7:32 of the second to put the Americans in front 2-1. Shinnimin and Ashton were credited with the assists.
Tri-City went in front 3-1 at 14:42 of the second when Connor Rankin scored. Shinnimin and Brock Sutherland had the assists.
Rankin scored at 17:31 of the second to extend the Tri-City lead to 4-1. Sutherland and Dylan Fluter had the assists.
Tri-City (37-18-2-2) outshot Seattle 12-10 in the second period and led 25-19 after two periods.
Shinnimin scored on a breakaway at 4:15 of the third period to give the Americans a 5-1 lead. Ashton had the only assist on the goal.
Seattle replaced Calvin Pickard midway through the third period with Michael Salmon. Pickard made 29 saves on 34 shots and his record fell to 22-28-3-5 with the loss.
Connor Sanvido scored at 14:02 of the third to get the T-Birds second goal. Sanvido took a pass from Chance Lund and skater around an Americans defender. Sanvido beat Driedger on the stick side for his first goal of the season.
Tri-City outshot Seattle 16-9 in the third period and 41-28 in the game.
Salmon stopped all seven shots he faced in 10 minutes of action.
Driedger made 26 saves on 28 shots and his record is now 5-3-0-1.