Promoting Washington fruit around the world
Posted:
Updated: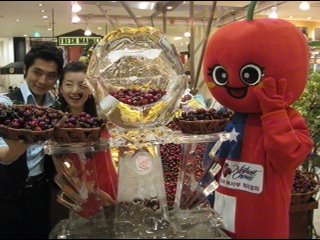 YAKIMA, Wash. - The fruit industry is an essential part of the region and increasingly its performance internationally is becoming more important to the industry.
"The growth is overseas," said Mark Powers of the Northwest Horticultural Council. "That's where we see China, India, a lot of the developing countries, their incomes are increasing, they're interested in healthy fruit, they're interested in healthy foods."
International exports have been a steady part of the business for decades but demand picked up in the late 1990s, bringing foreign exports to 30 percent of the fruit grown in the Northwest.
The process is two efforts, one part working to improve trade relations and remove tariffs and the other part trying to market our produce as the best to buy.
"Thank goodness for the Washington apple," said Keith Hu of the Washington State Fruit Commission. "Because of the Washington apple, Washington fruit is already well known around the world."
The Hansen Building in Yakima holds offices for both agencies. On one floor, Hu and others are working on the promotion of exported bruit. Powers works with his team on another floor trying to change policy to benefit growers. In some cases, their job can have them preparing for travel overseas with just a few days notice.
"They shut down the market down basically overnight and Taiwan's our third largest export market," Powers recalls one of the more challenging situations his organization dealt with in 2003. "It's forty, fifty million dollars some where at that level of exports."
As one of the dominant regions for fruit in and outside of the U.S., experts say the future remains abroad. Even with 90 percent of the apples and pears exported globally coming from the Northwest as well as 60 to 70 percent of the cherries.
The challenge will be to keep that strength by both selling our fruit to the world while satisfying the individual requirements of each country.
"Our brands are well received around the world," said Hu. "Our brands is very strong in the Asia Pacific markets."