Where to find electric cars in the Tri-Cities
Posted:
Updated: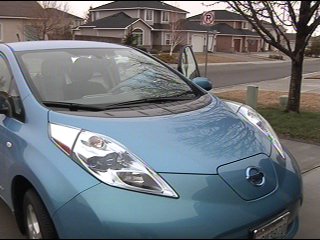 RICHLAND, Wash. -- Gregory Payne is like most people, he has a family and a nice home. But he stands out with what he's driving, an electric car.
"It's great, no complaints. We've driven it pretty much everywhere and we kind of stopped driving our minivan, just because we haven't needed to," says Payne.
Payne and his wife have owned the Nissan Leaf for a month. Since getting the car, they've managed to turn some heads.
"We've had a few inquiries. It doesn't really stand out too much because it looks like a normal car. When you drive it through the parking lot, because it's so quiet, they added a little noise to the car," explains Payne.
Dealerships whose brands offer electric cars have seen an increase in interest. McCurley Chevrolet does not sell an electric car, but is compiling a list of people who've called. Over at George Gee Nissan, the only place in the Tri-Cities taking orders, they have sold seven in the last two months, and expect more," I imagine now, we're going to see a lot more of those people coming in. They're saying gas is going to get up to $5.00 a gallon, you know it's hard to say, but realistically right now I think it's people that want to go green," says Nissan sales consultant, Jeff Jackson.
Most of the people Jackson has seen are workers from Hanford and P.N.N.L. While going green is a big motivator, saving time at the pump doesn't hurt.
"The fact that you're getting away from gas is great, not only in terms of the gas prices, but the fact that you don't have to go to the gas station anymore. You just plug it in at night, which is a really quick thing,"explains Payne.
But despite the success, Payne isn't expecting the minivan to go away, "I was joking with my wife today that we should buy another one just because we don't drive our other car around, but I don't think she'll go for it."