Lawmakers in session in Olympia
Posted:
Updated: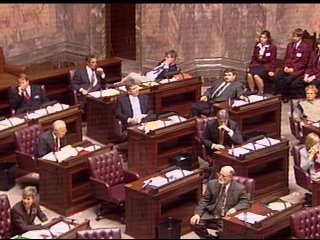 KENNEWICK, Wash. -- Lawmakers are in session Olympia and they have until March 7 to submit any new bills.
Local Representatives Larry Haler and Brad Klippert say the focus has been on maintaining public safety, high quality education and meeting the needs of the most vulnerable without raising taxes.
Klippert says the bill he's been working on a few bills, one regarding bicycle pedestrian safety, which received unanimous approval in the House. He also says he worked on a bill for a while is regarding the congestion of exit 96 by SR 224 and SR 225. He says that it is going to the Transportation Committee.
"That's going to help increase traffic flow there, that's going to Hanford State Route 240 up by the Hanford project. That's also going to help us get more traffic to west Richland and help us to industrialize that area for growth and prosperity," says Klippert.
Haler says he's been concentrating on The Higher Education Task Force Bill, working alongside Governor Chris Gregoire.
The bill is a blue print to help create a sustainable funding model and develop strategies that increase accountability to ensure taxpayers get the best value for the state's and student's investment at our four-year universities.
Companies like Boeing and Microsoft are heavily involved in helping make it happen.