Local Unions support Wisconsin
Posted:
Updated: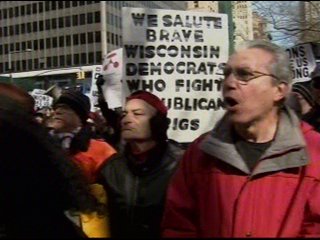 RICHLAND, Wash. -- More than 2,500 protestors gathered in Olympia this weekend in support of the people in Wisconsin.
Scott Brines, a Richland Fire Fighter and Representative for 26 districts in Eastern Washington says 200 firefighters and EMS workers were there as well.
"Wisconsin has been the proving ground for what is happening in the country right now. Conservatives are attacking the middle class and main street instead of blaming corporations and Wall Street for the mess they've made of our economy," says Brines.

Rep. Brad Klippert, who is in session in Olympia says not everyone feels that way, and 200 of the protestors were against Unions, supporting legislators in Wisconsin and Indiana who are doing away with collective bargaining rights.

"My understanding is that collective bargaining was getting ready to bankrupt those states and I've had more than one public official come to me and say that, that is true in their county or city," says Klippert.
However Klippert who works for the Benton County Sheriff's Office says his office is in a guild, which is very much like a union. He says he will decide what's best for the people based on individual examples and promises to protect people's retirement funds.
Brines does say he feels Washington Law Makers are being supportive of the local Unions. Klippert says there is no bill in the near future that would threaten collective bargaining rights.
Teri Staundinger, a Kennewick School Teacher and the President of the Southeast Chapter of Washington Education Association says what is happening in Wisconsin affects all of America.
"We feel however Wisconsin goes, that might be like a domino effect. We want to make sure that people understand that to lose your rights to collective bargaining is really a blow to the middle class," says Staundinger.
She says right now the WEA protects teachers from being fired without the proper Due Process Procedures.