Home schooling helps Kennewick boy with Autism
Posted:
Updated: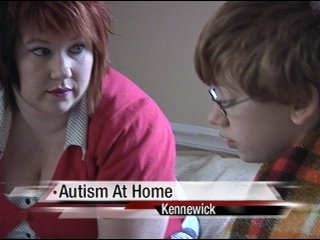 KENNEWICK, Wash. -- More and more families are dealing with children on the Autistic Spectrum, and schools are coming up with different options for these children.
Sebastian Lee is a fifth grader who is being home schooled by his mom Wendy. Before this year, Sebastian spent half the day in a regular classroom and half the day with other children diagnosed with autism.
"He had a hard time concentrating in school, he had a hard time following directions, he had poor handwriting skills and socially he was inept," says Wendy Lee.
Sebastian, who is 11 says he did have friends but some of the kids were mean. "They treated me like I was different. I didn't like leaving half way through the day to go to my special classes."
So to be social, Sebastian still takes classes at school too. "He's enrolled in a chess club this semester, he's enrolled in a dissecting salmon and learning all about salmon and he's also taking guitar lessons, and art," says Lee.
This year, Wendy quit her job and decided to teach Sebastian from home. "He's really good at math and science and reading, but I'm not that good at science. So I put him in a science class and some other social classes at the Mid-Columbia Program offered at South Gate Elementary, at the old Fruitland Building. He also needs special attention when it comes to writing. He gets lost in the details, it can take him up to an hour to write out one sentence. This is why it's better when I give him one on one attention," says Lee.
Lee says home schooling has been very successful because everything is written in an organized schedule.

Sebastian says he loves school from home because it's less stressful and comfortable. "Some schools have pajama day or pajama week, for me it's pajama year.'

In the Kennewick School District there are 177 children diagnosed as autistic, and 100 of them are in special classes. But many are in regular class rooms. Carol Girard, the Autism Specialist says she knows of five kids being home schooled this year.
In Pasco Schools, there are 125 children diagnosed with a form of autism and about four of them are home schooled.
Richland Schools have 85 children diagnosed with autism but none of them are being home schooled.
However, many parents that do home schooling, do it all themselves and their children are not registered with those school districts.