Portland Holds Off Tri-City 6-5
Posted:
Updated: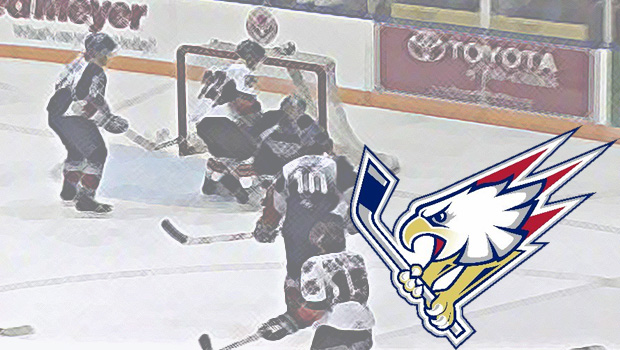 KENNEWICK, Wash. -- The Portland Winterhawks (43-17-0-3) got four points apiece from Nino Niederreiter and Sven Bartschi in a 6-5 win over the Tri-City Americans (37-21-2-2) Tuesday.

The win gives Portland 89 points, three ahead of second place Spokane, and now 11 points ahead of the third place Americans.

The Winterhawks got off to a quick start, getting a power play goal from Brad Ross 8:31 into the game, and followed with a goal from Bartschi at the 10:00 mark to take a 2-0 lead midway through the period. Portland added to the total when Craig Cunningham scored at the 14:27 mark to take a 3-0 lead, but the Americans got on the board with nine seconds left in the period on a power play goal by Carter Ashton to make it 3-1 going into the second period.

Any momentum the Americans gained from the late first period goal was halted when Niederreiter scored twice in a span of 1:55 in the second period, his 30th and 31st goals of the season, to give the Winterhawks a 5-1 lead. Later in the period, Portland defenseman Joe Morrow scored on a power play at the 13:48 mark to make it 6-1. But as they did in the first period, Tri-Cities scored a late goal, this time with 20 seconds left in the period, as the Americans' Connor Rankin scored to make it 6-2 going into the third period.

Tri-Cities chipped away at the lead in the third period as Brendan Shinnimin scored a power play goal 1:14 into the frame, and was followed 2:02 later by a goal by David Conrad to cut Portland's lead to 6-4. Later in the period, the Americans' Kruise Reddick scored at the 16:48 mark to make the score 6-5. However, that would be as close as Tri-Cities would get, as the Hawks shut them down the rest of the way to earn the win.

Niederreiter finished the game with two goals and two assists, while Bartschi had a goal and three assists. Cunningham finished with a goal and two assists.

Portland went 2-3 on the power play, and 5-7 on the penalty kill. Mac Carruth got the win for Portland, stopping 44 of Tri-Cities' 49 shots. The Americans' Chris Driedger allowed six goals on 35 Portland shots.