Richland Church members return from Haiti Mission
Posted:
Updated: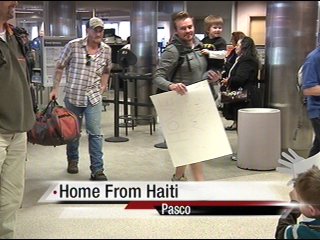 PASCO, Wash. -- It was a happy homecoming at the Tri-Cities Airport in Pasco, after seven men returned from a mission in Jeremie, Haiti.

The men are all members of the Columbia Foursquare Church in Richland. They left on February 16th to build an orphanage and church to house up to 100 kids living in poverty. Jeremie is 250 miles outside Port-Au-Prince.
"We worked hard and we pushed through, we didn't take any breaks, we didn't go the beach, we worked every day sun up to sun down," says Travis Bracy, one of the mission workers.
"We had a couple set backs, our tools didn't arrive until about four days after we got there," says Aaron Potts, the main builder of the project.
But Potts and his brother donated $15,000 to the trip and the Richland Church matched the amount. In the 11 days they spent there, the men were able to finish a two story, 3,000 square foot building.
Potts says, they already have a group of orphans that need the home. "They have right now 48 kids living in a four room house. It's pretty much squalor and they're hoping to move into this house some time in April or May," says Potts.
And Bracy says after being in Haiti for almost two weeks, he will no longer take all of our luxuries for granted. He says the kids came out and watched them work every day. "They're excited to move in. They're used to dirt floors, no electricity, no running water, nothing like that. This orphanage will have all that," says Bracy.