Dairy farmers hold food drive for NW Harvest
Posted:
Updated: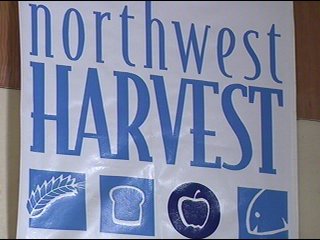 YAKIMA, Wash. -- Dairy Farmers of Washington and Les Schwab Tires have teamed up to help several local food banks.
They'll be holding a food drive this Friday at the WIAA State Boys and Girls 1A and 2A Basketball Championship.
Rosemary Rief with Northwest Harvest says the need continues long after the holiday season. The warehouse in Yakima distributes food to approximately 40 food banks in the Yakima Valley area.
"Right now, those people who were getting food during the holiday period are needing your continued support and your continued nutritious food," Rief said.
NW Harvest is asking for canned food, and items that are non-perishable, including canned meat. Rief adds that people can still donate cash, which they'll use to purchase food items.
You can drop off your cash or non-perishable food items Friday, between 11:00 a.m. - 3:00 p.m. at the entrance of the Yakima Valley SunDome.
The first 250 people who donate will receive a reusable grocery tote bag, a copy of the Naturally Nutritious cookbook and coupon for Darigold Refuel, a rich chocolate low fat protein milk. Inside on of those bags, one lucky person will receive a $100 Fred Meyer gift card for dairy products.
"We thought we'd give the food drive concept a new spin," said Jeff Steele, Dairy Farmers of Washington Director of Retail Marketing. "the person who wins the $100 certificate also has the option of contributing it to the food drive."
The State Basketball Championship games begin this Thursday, and the food drive will be held on Friday at the SunDome, 1301 S. Fair Ave. in Yakima.