Picketers out in full force for prison safety
Posted:
Updated: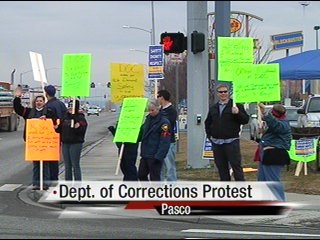 PASCO, Wash. - Corrections officers were out in full force today for 11 planned protests around the state including on Road 68 in Pasco.
They were out raising awareness about safety issues for corrections officers. "We realize the state has a budget and they have to make cutbacks, but we've had enough cutbacks, we cant take anymore cutbacks or we are going to lose more lives," said Valarie Doan, Coyote Ridge Correction's Officer. "What we really want is the state to realize that we want to be safe and we want every opportunity to do that," said Ed Bridge, Coyote Ridge Correction's Officer.
The bottom line from protesters is the state is locking up more people and at the same time cutting prison staff. "What I would like to see is just for officers and staff members to stop losing their jobs so that we can have the coverage that we need for a safer inside and outside community," said David Byng, Coyote Ridge Correction's Officer.
Eldon Vail, Secretary of the Department of Corrections issued this statement, "We will look for ways to make prisons safer for our staff in addition to the actions we have already taken. We are working closely with the national institute of corrections to find additional steps we can take to ensure the safety of our staff members."
Representative Brad Klippert says Monroe officer Jaime Biendle's death could lead to changes. "We will be looking over that investigation, what they found, deciding what reforms are needed, to do everything that we can to ensure the safety of our correctional officers," said Klippert.
Picketers say they wont stop until the DOC starts listening to their concerns.