Goggin family murder suspect in custody
Posted:
Updated: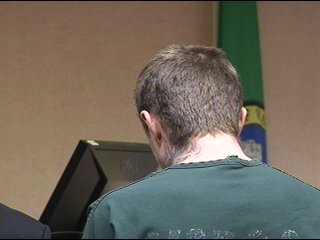 YAKIMA, Wash- Wednesday at the Yakima County jail Kevin Harper made a first appearance in court on suspicion of robbery, burglary, theft of a firearm, and most notably the murders of Pauline 60, William 61, and Elizabeth Goggin 98.
Since sheriff's deputies found the Goggins dead in their home on February 18th, they've had no suspects. However a domestic violence call on Saturday led them to Kevin Harper. At Wednesday's press conference YSO revealed that some items had been taken from the Goggin's house and were found where Harper was staying.
"One of the handguns we believe was similar in description to a somewhat unusual handgun that we know was taken in the course of the burglary that occurred in the Goggin residence", says Stewart Graham, chief of detectives for the Yakima Sheriff's Office.
Harper has seven felonies on his record for crimes including theft, property violations, and violence. Chief Graham says the crime against the Goggins were likely killed as a result of a robbery fueled by drugs.
Harper was living in a trailer just a short walk from the gated community where the Goggins lived. Chief Graham says they may have been a random target. I spoke with a relative who says she can't imagine her cousins would associate with someone with Harper's past.
"My cousin Pauline and William they were good living people. You talk to anybody and they would tell you the same. So I can't even imagine that. I can't even imagine that at all", says Cheryl Guerra, Pauline Goggin's cousin.
Guerra went on to say that Harper's arrest will help her family's grieving process.
"We can have her memorial services and know that the guilty party was found and as horrible as it is, it takes away part of the questions", she explained.
The judge did not set bail for Harper during his court appearance. His trial date however is set for April 11th. The county prosecutor says he may ask for the death penalty.