Richland and Kennewick businesses want curbside recycling
Posted:
Updated: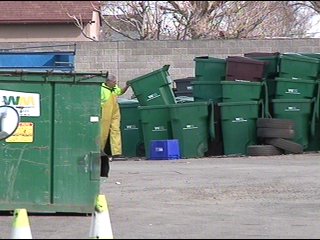 RICHLAND, Wash. -- Richland and Kennewick have many resident participating in their residential curbside recycling program.
For $5.60 a month, residents in Richland get a bin and pick up every two weeks. "We have over 3,500 residents that are participating and paying for it," says Gail Everett the Environmental Education Coordinator for the City of Richland. She says people are calling and asking for the same service to be available for businesses.
Everett says after conducting surveys in March, that is what is next on the agenda. "We plan to expand it to our multi family, business, commercial customers. Hopefully in 2012, we'll have a great program to introduce," says Everett.
Richland manages their own garbage and recycling and they take what they collect to their own center for processing. She says this can be expensive. "The biggest problem is cost. It costs money to put the containers out, to buy a truck to empty the containers, to hire extra people," says Everett. She says sometimes it costs more money to recycle than what the material is worth.
"It gains and loses value depending on the demand and because when the economy falls, the demand for products fall. And the demand for recycled fiber falls."
Kennewick currently outsources its garbage and recycling to Waste Management.
Waste Management collected over 900 tons of recyclable material last year says Bruce Beauchene, the Kennewick Utility Services Manager,
Recycling is free if you are a garbage customer. They pick up cardboard from 450 businesses in the city but nothing else because it's inefficient to sort the material and ship it.
Officials from WM say they are building a processing recycling facility in Spokane within the next two years, and that is going to change the way recycling is handled in the Tri-Cities as well as Central Washington, Idaho and parts of Montana.