Older people living longer
Posted:
Updated: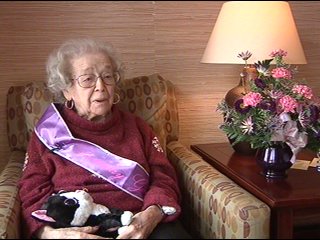 KENNEWICK, Wash. -- People at Hawthorne Court Retirement Community in Kennewick are getting ready for a birthday. And the special lady was Oramay Edwards who turned 101 Thursday. You would think after living a century, the best days are gone, well don't tell Oramay that.
"I feel great, I can't think that I'm that old, I really can't, but I guess I am," says Edwards.
At 101, Edwards has always been moving. She volunteered until she was 99 when a fall forced her to quit working, but it didn't force her to stop living.
"I taught school for umpteen years, I was always out, always active, and I just couldn't sit home and do nothing. I'm not built that way," explains the centenarian.
According to the U.S. Census Bureau there are currently over 100 thousand people over 100. By 2020, that number will increase over 200 thousand.
"We've always had a lot of people that reached the century mark, and I really think it's attributed to them living an active lifestyle and then being engaged," says General Manager of Hawthorne Court, Malaura Bricker.
"I exercise in my house, in my home, then I go to the gym and exercise two sessions. And I think that's what keeps me going," explains Edwards.
For 60 years, the longtime Kennewick resident worked as a teacher and has this advice for young couch potatoes, "get off of your butt, get outside and do something."