Central Washington Wins GNAC Tournament, 83-71
Posted:
Updated: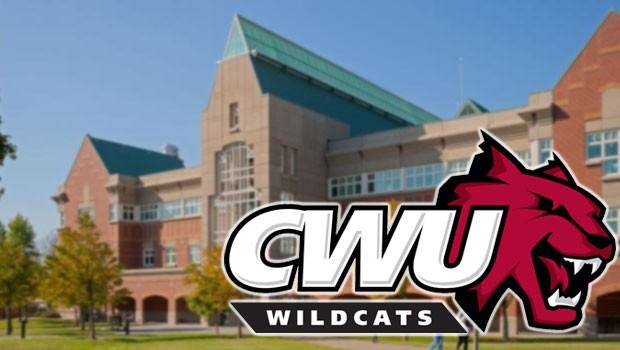 ELLENSBURG, Wash. -- Seniors Jamar Berry (Tacoma, Wash./Franklin Pierce HS) and Chris Sprinker (Tacoma, Wash./Curtis HS) combine to score 44 points, leading the Central Washington University men's basketball team to its first Great Northwest Athletic Conference Championship in school history, defeating Alaska Anchorage, 83-71, on Friday night in front of a capacity crowd at Nicholson Pavilion.

Central Washington, ranked 10th nationally, will enter the NCAA Division II Tournament with a 26-3 record. The Wildcats were ranked first in the West Region poll this week and, should they retain the top spot, they will host the NCAA Division II West Regional Tournament starting Friday, Mar. 11. The title is Central's first men's basketball conference championship since 1999-2000.

Berry, who was named the tournament's Most Valuable Player after averaging team-highs of 21.7 points and 6.7 rebounds per game in leading the Wildcats to three double-digit victories, scored 25 points with seven rebounds in Friday's win. He made 11 of 14 free throws, accounting for two-thirds of Central's 21 free throw tries in the game. Fourteen of his tallies came in the second half, when he made 9 of 10 at the foul line.

Sprinker had his first double-digit scoring game since the regular season finale, scoring 19 including 15 before halftime. He finished the night making 8 of 11 including 1 of 1 from three-point range, which opened the game's scoring in the first minute. Nine of his counters came in the first 6:41.

The game was a see-saw affair in the first half, with three ties and six lead changes. Alaska Anchorage led for most of the middle stretch of the opening period until a steal and dunk by Berry at the 7:30 mark gave the Wildcats a 30-29 lead as part of a 9-0 run. Central finished the half on a 14-4 spurt over the final 8:59 to take a 40-33 edge into the intermission.

In the second half, the Wildcats maintained the lead, although the Seawolves closed to within three at the 14:48 mark. However, Central responded with a 9-2 run over the next 2:50 to secure its first double-digit lead of the night, and the closest UAA would come to the Wildcats was a six-point margin with better than 10 minutes left. CWU extended its lead to 14 in the final minute before settling for the 12-point victory.

As has been the trend throughout the 2010-11 season, standout defense keyed the Wildcats' victory. Although Alaska Anchorage shot 57.1 percent on the night -- nearly 10 percentage points higher than CWU -- the Wildcats forced 18 turnovers (thanks to 13 steals) while committing a season-low-tying six turnovers. Central has turned the ball over just 15 times combined in the past two contests.

Offensively, Central drained 10 three-pointers in 26 attempts and was 17 of 21 at the free throw line. Four players scored in double figures, with seniors Chris Scott (Las Vegas, Nev./Bonanza HS) and Humberto Perez (Yakima, Wash./A.C. Davis HS) joining Berry and Sprinker with 16 and 10 points, respectively. Scott, who was 4 of 7 from three-point range, left the game with 3:50 remaining after colliding with Alaska Anchorage's Taylor Rohde on a screen and did not return. Senior Drew Harris (Yakima, Wash./Eisenhower HS) had a game-high seven assists and added five rebounds.

Alaska Anchorage was led by the 19 points each of Lonnie Ridgeway and Brandon Walker, as Ridgeway made 8 of 10 field-goal attempts to lead the Seawolves. Mario Gill added 11 points, while Rohde, a first-team all-GNAC selection, was held to four points and three rebounds.

Central Washington, which earned the GNAC's automatic berth to the NCAA Division II tournament with Friday's win, will now await the pairings for the regional tournament, which will be announced on Sunday (Mar. 6) at 7 p.m. on ncaa.com. There will be a selection show party at The Palace Cafe (323 N. Main St. in Ellensburg) beginning at 6 p.m.
COLLEGE MEN'S BASKETBALL
WEST REGION
NCAA DIVISION II
GREAT NORTHWEST ATHLETIC CONFERENCE
#10 Central Washington 83, Alaska Anchorage 71
ALASKA ANCHORAGE (23-9) --
Ridgeway,Lonnie 8-10 2-2 19; Walker,Brandon 8-18 0-0 19; Gill,Mario 3-7 4-5 11; Thompson,Travis 3-3 0-0 8; White,Steve 2-2 2-2 6; Rohde,Taylor 2-3 0-2 4; Peterson,Matt 1-1 0-0 2; Gibcus,Liam 1-3 0-0 2; Hearn,Phillip 0-0 0-0 0; Fossman,Kyle 0-0 0-0 0; Robinson,Drew 0-2 0-0 0. Totals 28-49 8-11 71.
CENTRAL WASHINGTON (26-3) --
Berry,Jamar 6-15 11-14 25; Sprinker,Chris 8-11 2-2 19; Scott,Chris 6-10 0-0 16; Perez,Humberto 4-8 0-0 10; Gibler,Coby 1-2 3-3 5; Harris,Drew 1-5 1-2 4; Johnson,Jody 1-6 0-0 2; Clyde,Roby 1-2 0-0 2; Nelson,Ted 0-0 0-0 0; Dunn,Taylor 0-0 0-0 0; Lieser,Philipp 0-0 0-0 0. Totals 28-59 17-21 83.
Halftime--
Central Washington 40, Alaska Anchorage 33.
3-point goals--
Alaska Anchorage 7-18 (Walker,Brandon 3-10; Thompson,Travis 2-2; Gill,Mario 1-3; Ridgeway,Lonnie 1-1; Robinson,Drew 0-2), Central Washington 10-26 (Scott,Chris 4-7; Perez,Humberto 2-6; Berry,Jamar 2-7; Harris,Drew 1-3; Sprinker,Chris 1-1; Johnson,Jody 0-2).
Fouled out--
Alaska Anchorage-None, Central Washington-None.
Rebounds--
Alaska Anchorage 29 (Gill,Mario 4; Robinson,Drew 4), Central Washington 26 (Berry,Jamar 7).
Assists--
Alaska Anchorage 11 (Robinson,Drew 6), Central Washington 16 (Harris,Drew 7).
Total fouls--
Alaska Anchorage 14, Central Washington 16.
Technical fouls--
Alaska Anchorage-None, Central Washington-None.
Att--
2519.
2011 Great Northwest Athletic Conference Basketball Championship Final
NABC/Division II Rankings: UAA (NR), CWU (#10)