Winter Carnival celebrates 25 years at White Pass
Posted:
Updated: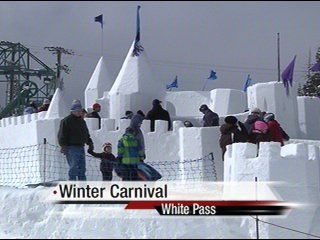 WHITE PASS, Wash. – For a quarter of a century the Winter Carnival has treated fans from across the state to a weekend of fun and fundraising.
"I love to ski and snowboard and sculpt," said Emily Hargan.
The annual event at the resort runs through Sunday and brings out the kid in everyone. Children enjoy games and obstacle courses while slightly older "kids" check out incredible snow creations.
Wendy King oversees programs for Children's Miracle Network in Central Washington. She says the carnival helps bring home the importance of the charity benefiting from all the fun.
"I think people really understand and appreciate the health they have and the health of their children," she said. "They are more than willing to give to kids who aren't up at the mountain but who hopefully will be soon. "
The Children's Miracle Network has used its signature balloons to raise money for local hospitals for years. The organization is trying something new this year at White Pass that they hope will stick with their supporters. "
We decided to add another element which is the Miracle Mustache," said King. "When people ask what's the mustache for, [someone] responds 'It's for the Children's Miracle Network' and then smiles and glows and 'Oh that's great.'"
There is plenty for everyone to do at the carnival in addition to skiing and snowboarding but for most of the people on the mountain, the main attraction is clear.
"Oh the Castle," said Hargan. "There's this tunnel you go through but first you have to go through this bridge with Shrek on it and at the very top there a slide."