Richland firefighter creates survey on why people don't call 911 for cardiac issues
Posted:
Updated: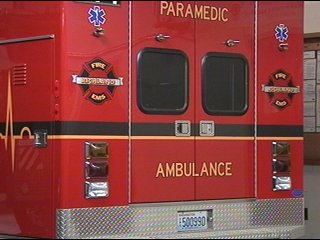 RICHLAND, Wash. -- Once a week, you'll find a small group of seniors playing poker at the Richland Community Center. These folks are experts at winning, but they're also experts on what it takes to stay alive.
"That's all it was, a morning where I couldn't catch my breath and there was pain, so my wife was wondering should we call 911, and I said yeah, call the ambulance," said Paul Haverluk, who had heart bypass surgery as a result of that call.
Betty Norton realized that something was wrong with her husband when she heard him try to get her attention, "he hollered at me, and he sounded funny and I went racing to where he was, he was sitting there, and his face was drawn and he said I'm having a stroke," says Norton.
Both Paul and Betty, called for help increasing the chances of living. But sadly, many don't. About 50 percent of people with heart attack or stroke symptoms are driving themselves to hospitals.
Now Captain Tom Huntington of the Richland Fire Department has created a survey to find out why, "they're waiting too long to call 911. They're either deciding to drive themselves in which increases the risk of an traffic accident or delay in care or they're calling family first and making other arrangements."
"It really is critical in getting definitive care started very quickly and a lot of people delay that thinking I'm not having an heart attack or the symptoms will pass," explains Huntington.
The survey is up on the City of Richland's web site. You can find it under the fire and emergency services tab.
Huntington expects survey results by late April. Those findings will go to the National Fire Academy where fire departments across the nation can get information on how to fix the problem.