La Salle student competes in nat'l art contest
Posted:
Updated: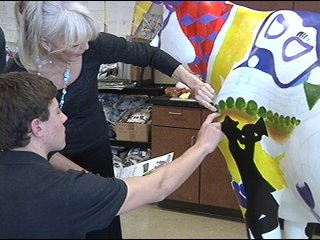 UNION GAP, Wash. -- A La Salle high School student is hoping his artwork will win the school some cash. It's the 6th Annual Lucerne The Art of Dairy art contest. This year's theme is "Sharing Joy."
Sophomore Cody Hart is one of 30 finalists in the country who could win $20,000 for his school. Hart and his fellow classmates in art class have been painting on the life-sized white, fiberglass cow sculpture for a couple of weeks.
"The original idea was 'Oh. We'll share this with the arts,' but I wanted to do an event where you could have festivities and colors. And that was Mardi Gras," Hart said.
Cody's original submission was chosen among a total of 30 finalists across the country. His art teacher, Jamina Jones was able to use the $250 prize to purchase art supplies for the cow project.
"Because the canvas is fairly large, and we have a limited time to get it done, Cody has chosen to have some classmates help him," explained Jones. "He felt his design. It came from within him. So that was very exciting for him to get the recognition for the contest."
The deadline for the school to submit their work is April 1. The winning student and teacher will each get $5,000 dollars. The grand prize winner will be announced in May. For more information on the Lucerne Art of Dairy contest, click on the following link: http://www.artofdairy-artcontest.com.