Yakima Red Cross honors local heroes
Posted:
Updated: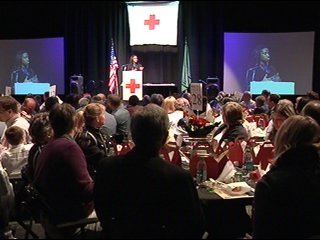 YAKIMA, Wash. -- The Red Cross gave out awards Tuesday to recognize several community members from the Yakima Valley.
The "Real Heroes" recipients included members of law enforcement, animal lovers and volunteers.
The 11th Annual Red Cross Real Heroes event was moved back to lunch this year and changed venues to the 4th Street Theatre.
Red Cross Executive Director, Lisa Reinhart says this luncheon is important to the organization for many reasons. "It's essential because it's a fundraiser for us and we operate solely on donations, but it's also a fundraiser and it also aligns with our mission. So all these heroes have stories that align with the Red Cross mission," Reinhart said.
Many of the people made additional contributions to support the Yakima Valley Chapter of the Red Cross. Reinhart says the event raised about $20,000 for the organization. She also said the event sponsors really helped make this year's event a success.
For more information about the American Red Cross or to make a donation, click on the following link: http://www.yakimaredcross.org. Yakima Valley Chapter of the Red Cross is located at 302 S. 2nd Street in Yakima. You can also contact their office at (509) 457-1690.
We've posted stories of all of the 2011 Real Heroes at http://www.kndo.com, just click on the Community tabs at the top of the homepage.