STEM grants boost science and technology learning
Posted:
Updated: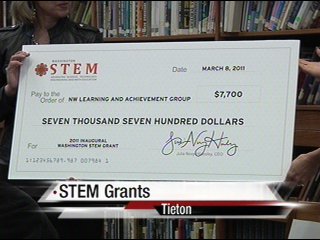 TIETON, Wash. -- A new nonprofit group is helping students with their awareness of technology.
The group called Washington STEM presented a check for $7,700 to the Northwest Learning and Achievement group at Highland Middle School in Tieton, Tuesday afternoon. The NLA group provides year-round learning programs in both Quincy and Highland middle schools.
STEM stands for Science, Technology, Engineering and Math. Students at Highland will get a chance to learn about alternative energy and incorporate it with math and science.
Principal for Highland Junior High School, Kelly Thorson says the program and is a work in progress. "We build models based on what they've seen and use the science and math and technology to break down those models, and really understand the process in how that works," Thorson explained.
A $10,000 grant also went to White Swan High School. The 9th grand teachers are overseeing the Power Academics at White Swan (PAWS) program. The program blends learning in English, biology and world history.
Washington STEM say they've invested $2.4 million in 15 educators across the state. They plan to raise $100 million during the next 10 years, to increase the quality of STEM education through the state.
STEM Ceo Julia Novy-Hildesley, said the organization's role to is learn and work with educators, schools, districts and programs across the state. "We are here to partner in building the community that will identify and implement effective approaches that can be scaled across the state and event the nation," Novy-Hildesley shared in a written statement.
To learn more about Washington STEM, click on the following link: http://www.washingtonstem.org/.