Schools encouraging students to take accelerated math courses
Posted:
Updated: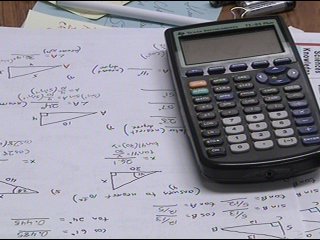 KENNEWICK, Wash. -- Nearly 500 middle school students are taking high school level math in Kennewick middle schools.
For 10 years, accelerated courses have been offered. When the district got rid of a rigid test required to take the class and encouraged more children, the response was overwhelming.
Desert hills middle school shows it can work. Algebra, Geometry, by the looks of the problems, you would think this is high school. But it's not, it's an 8th grade honors algebra class. These students are doing work way before their time, and it's hard.
"For me, I struggled a little bit, but like it is a little bit of a challenge," explains student Ryan Cranston. Fellow student Ty Wallin says he also had some difficulty at first, "It's pretty difficult, but once you're in it for a while, you learn how to do everything."
While most admit the work is hard, the thought of being prepared for the future is most important.
"I brought my signup sheet home from the beginning of the year for my parents and we talked it over, and we thought it would be best for me to take it this year so I could have one step ahead of freshmen going into high school," explains student Austin Craythorn.
Any student with a desire to do the work can sign up for the class. And when they begin to excel at the work, it makes teachers like Shawn Suss proud, "They learn something new and they think that's really cool and that makes you feel pretty good as a teacher as you teach them new things that they didn't get and they do start to get it, it's a really good feeling."
"It feels kind of good because you know that you have it, you're basically you got one step of the learning process already done," explains Cranston.
Kennewick's Assistant Superintendent of Secondary Education says they're considering expanding the accelerated courses into general math studies in all middle school. The curriculum would be more basic and not in depth like the honors program.