Yakima Valley Wins NWAACC Tournament for Cordova Family
Posted:
Updated: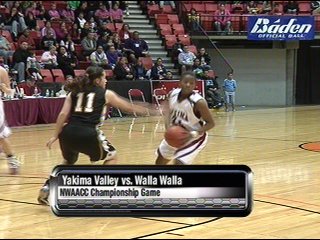 KENNEWICK, Wash. -- The Yakima Valley Yaks took care of business Tuesday as they defeated the red hot Walla Walla Warriors in the NWAACC Championship game at the Toyota Center, 53-40. The title game was a rematch of last year's championship that Walla Walla took home with a 75-72 win.
The Yaks scored the first points and never trailed as they mounted a lead that grew as the minutes ticked off the clock. The margin peaked at 16 pts at the 11:15 mark in the second half.
The Yaks were playing for more than just a championship Tuesday, they were playing for Hannah Cordova, a hard working and caring teammate that they lost in a tragic car accident last Monday. The Cordova family was at the tournament, following the team all four days on their rise to the title.
The Yaks were led in scoring by Dequise Hammick who had 21 points but also turned in 5 assists. Samantha Zapien also had a good game with 9 points and 12 rebounds while Brittney Newcomb added another 11 points. Shiann Dreadfulwater paced the Warriors with 12 points while Caitlin Duncan and Stevie Humphries combined for 17 boards. Yakima did a good job keeping Leslie Stillar, who was dynamite against Columbia Basin yesterday, in check as she only managed 5 points.
The title represents Yakima's third and first since 1990 & '91, when they won back-to-back championships. It is the 1st for head coach Cody Bulter.
KNDU caught up with the Cordova family after the game.
"The last few days have been very helpful," said Hannah's parents, Bob and Robin Cordova. "I'm very blessed again to be apart of this family. They've given us strength. They've given us hope. I just want to say thank you.""
"It means everything to us," said Newcomb. "We came here for her. We wanted to win this for her and for her family. We're so thankful that [her family] could come and watch us and inspire us to play that much harder beause we know Hannah would be so proud of us right now, and we know she's looking down on us."
"I love her to death, and we did this for her and I wish she was here," said Hammick.
"Having the family here was a huge part of it, but Hannah was looking forward to this tournament," said Butler. "I mean, she was going out to buy outfits for the banquet weeks in advance and so the girls were excited and they wanted to play for her and they did. Playing like Hannah and for Hannah resulted in a championship. I think she is going to be remembered for a very long time. YVCC hasn't won a championship for like 20 years, and she was a huge part of it."