Businesses feeling affects of rising gas prices
Posted:
Updated: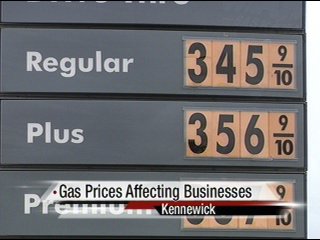 KENNEWICK, Wash. -- For some Kennewick pizza and flower shops, business is fine. Of course a portion of their income comes from deliveries. But these business owners are already planning for higher prices, and it may cost the consumer.
"It's waiting, watching to see what are vendors going to do with their shipping charges, but I'm kind of waiting to see what gas prices are going to do, " says Jenny Oldham, owner of the Kennewick Flower Shop.
A lot of business owners like Oldham are also watching gas prices. But, they're also changing how they operate to keep as much money as they can.
"We did change are delivery vehicle to something that kind of helps us out with gas mileage and gas pricing that way," explains Oldham.
The change included putting aside their delivery van which cost nearly $100.00 to fill up, in favor of a smaller car with more space that cost $40.00 at the pump.
In addition to smaller cars, another change includes planning out where to make deliveries,"We have kind of started our deliveries a little bit later into the day to give people a little more time to call in," says Oldham.
Oldham hasn't raised delivery fees yet, and hopes changes in business operations will keep it that way. But over at Papa John's, increasing gas prices could certainly raise their fees, "I would say it would probably end up being like a three dollar delivery fee, we're at $2.50 cents for a delivery fee now," explains delivery driver, Chris Porter.
Porter pays $20.00 a day to fill up his tank. But as winter winds down, he hopes increased business and tips will help.
"When business goes up, people are going to call. And we'll actually be able to take more than one delivery at a time so it will balance out," says Porter.
While these businesses are trying to find out how to manage the high gas prices, for most people it simply cost more to drive, than it does to ride a bike.
And more people are trading in their four wheels for two. Business for the "Chain Reaction Bike Shop" in Kennewick has been on the rise.
The shop offers options for customers looking for new and used bikes, and a lot of those people are coming in for both.
"A lot of people have been complaining about the gas prices, some of them looking for new bikes, they're looking for a little bit of an economical bike, not necessarily a Wal-Mart bike, and a lot of them are just bringing in their old bikes they had for years, they're just fine, need a little bit of work and they're back on the road," says Daren Fairweather, owner of Chain Reaction Bike Shop.
Fairweather says most of his business so far has been primarily repairs. He adds as gas prices are expected to rise, he expects more repairs and an increase in people buying his brand new items.