Five bugs going around the Tri-Cities
Posted:
Updated: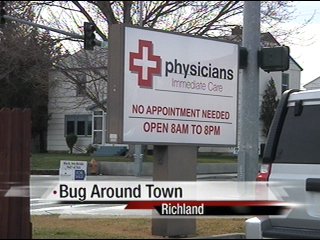 RICHLAND, Wash. -- Doctors offices are packed with people who caught the bug that's been going around town.
"There are about five different things going on around town right now," says Heather Hill who works in the Communicable Diseases Department with the Benton Franklin Health District.
Hill says she's been seeing the flu pop up, lots of colds, the Norwalk Virus and RSV in infants.
Physician's Assistant, Eric Pearson at Physicians Immediate Care in Richland says the common cold is even more common this year. "We see about 50-60 patients on average a day. That's in a 12 hour day, and about 75% of them have some sort of upper respiratory problem," says Pearson.
"Lately we're seeing a lot of cough and cold virus illnesses, bronchitis, kids coming in with strep, a lot of strep throat going around," says Pearson of the urgent care facility.

14 year old Paige Foelber, a freshman at Hanford High School says she has strep and had bronchitis last month.
"I know a lot of people who have had it recently."
"The schools are noticing an increase of absentee rates, and few schools have reported a greater than 10 percent," says Hill about the last two to three weeks.
Pearson says this year the common cold is everywhere and there are less cases of the flu. Hill says everyone should still get vaccinated.