CWU: Berry and Sprinker Named to All-Region Team
Posted:
Updated: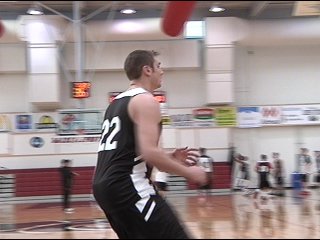 SPOKANE, Wash. -- Central Washington University seniors Jamar Berry (Tacoma, Wash./Franklin Pierce HS) and Chris Sprinker (Tacoma, Wash./Curtis HS) were both selected to the 2011 Daktronics, Inc. Division II West Region men's basketball all-star team, released Wednesday.
Berry was a first-team selection and Sprinker earned a spot on the second team. They are joined by fellow Great Northwest Athletic Conference participants, Blake Poole from Saint Martin's (first team), Parrish West of Alaska Fairbanks (first team), and Alaska Anchorage's Taylor Rohde (second team).
Berry, who leads the Wildcats in scoring (17.5), three-pointers made (46), free throws made (111) and attempted (141), and field goals made (175) and attempted (342), is the first Central Washington player since joining the GNAC in 2001-02 to be selected to the Daktronics All-West Region first team.
Sprinker has averaged a career-best 13.5 point per game and became Central's career leader in blocked shots this season. He joins former Wildcats Lance Den Boer (2004-07), Jake Beitinger (2007-09), and Matt Penoncello (2007-09), all of whom have been second-team selections during the Wildcats' GNAC era.
Humboldt State forward Brian Morris edged out Poole to be named West Region Player-of-the-Year. Seven of the 11 players selected to the Daktronics West Region All-Star first or second team will be on display this weekend in Nicholson Pavilion as CWU hosts the NCAA Division II Men's Basketball West Region Tournament starting Friday, Mar. 11. Central Washington, ranked fifth nationally and first in the West Region, plays Seattle Pacific (19-9) at 8 p.m. Friday night.
2011 DAKTRONICS, INC. DIVISION II ALL-WEST REGION TEAM
First Team
Brian Morris, Humboldt State
Blake Poole, Saint Martin's
Jamar Berry, Central Washington
Davion Berry, Cal State Monterey Bay
Parrish West, Alaska Fairbanks
Second Team
Marques Whippy, Brigham Young-Hawaii
Marcquintice Davis, Cal State Dominguez Hills
Chris Sprinker, Central Washington
Tsung-Hsien Chang, Brigham Young-Hawaii
Franklin Session, Cal State L.A.
Taylor Rohde, Alaska Anchorage