Hawthorne Court seniors love the Ams
Posted:
Updated: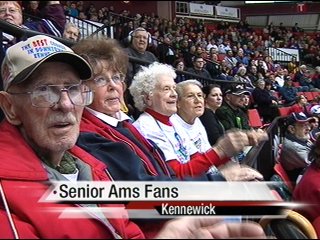 KENNEWICK, Wash.-- The Tri-City Americans are preparing for the last few games of the regular season. A group of seniors from Hawthorne Court has been going to every home game for the past few years.
Eleanor Webster, 93, is one of the residents who goes. Amelia, Chuck, Milo, and George also go, often joined by their friend and volunteer Pat and Joel, the bus driver. The seniors ride the Hawthorne Court bus from the living community to the Toyota Center. Joel drops them off and picks them up at the front door.
"Oh it's terrific. Hawthorne here furnishes everything," says Amelia May.
"We have a wonderful time. There are several of us going. We all sit in a row and we all clap and carry on, make lots of noise. And even though I can't see very well, I can just love those boys coming up and down the ice," explains Webster. She has macular degeneration, but says, "I can still see the hockey players going on the ice and once in a while I can see where the puck is or where it's going." The others often fill her in if she misses any of the action.
The group always sits in Section R and everyone there knows them by name & cheers with them. Eleanor says, "We scream and we yell and we have instruments to make noises and I whistle and I tell them [the players] what to do." She says when the Ams listen to her, the group gets to see their favorite thing.
"My favorite part is when we make a goal," says Amelia. As for Eleanor: "Oh of course when they make a goal, of course!"