YPD, City of Yakima settle lawsuits
Posted:
Updated: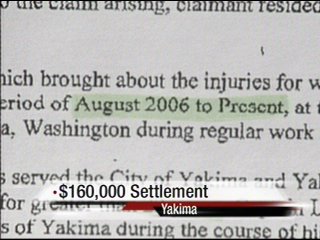 YAKIMA, Wash. -- The City of Yakima and three members of the Yakima Police Department have agreed to settle lawsuits.
In a release sent by the City of Yakima Thursday, the lawsuits took place during the administration of former police chief Sam Granato, who retired in January.
Sergeant Brenda George, Sergeant Rod Light, and Officer Stacey Andrews each filed separate lawsuits, but according to the City, decided to seek a consolidated settlement of their cases.
The mediation process was overseen by David Soukup, a retired judge who served in both Seattle Municipal Court and King County Superior Court. Light, George and Andrews agreed to a settlement totaling $160,000.
According to the City, the settlement will be paid almost equally from a liability policy the City has through Cities Insurance Association of Washington/Travelers and a City risk management fund. Light, George, and Andrews will decide how the settlement will be divided between them.
"The settlement brings to a close what could have been a long and expensive process for everyone involved," said City Manager Dick Zais in a written statement. "The City is comfortable with the settlement and satisfied that these cases have been resolved."
The lawsuits filed by George and Light both involved issues related to their duties as part of the Yakima Police Athletic League (YPAL) staff. George alleged that because she had reported improper behavior of another YPAL staff member to Granato, she had been, "wrongfully denied further opportunity for career advancement" and "subjected to gender discrimination and demeaning sexist comments" by Granato. Light claimed that because of his involvement in reporting improper conduct at YPAL, he had been "subjected to retaliation, abuse and improper conduct" by Granato.
Andrews's case primarily focused on a sexual harassment claim against Granato and included an allegation of retaliation by the former police chief.
"Sergeant George, Sergeant Light, and Officer Andrews are looking forward to continuing to provide outstanding service to the Yakima Police Department and to the citizens of Yakima," said attorney Bill Pickett, who represented the three YPD employees, in a written statement. "Everyone involved believes the settlement of these claims is a positive step in the right direction for the Yakima Police Department, the City, and the community."