Housing market sees demands
Posted:
Updated: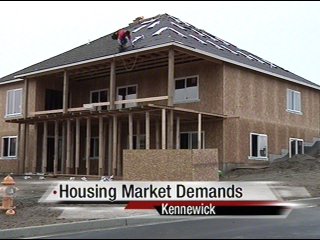 KENNEWICK, Wash. -- It seems everywhere you look housing developments are popping up and as the Tri-Cities continues to grow experts say so will the housing market.
"Year to date we are up about 20%, already according to HBA and building permits," said Paul Roy, President of Tri-City Association of Realtors.
Here's a look at home sales in the Tri-Cities for the last few years:
2010: 3,277
2009: 3,355
2008: 3,015 (The recessions worst year)
2007: 3,701 (When the recession officially started)
We have a nice balance market, the numbers look good. In the higher price points it take a little longer and there's a little more supply, in the lower price points there's not a lot of homes to chose from and there are shortages," said Roy.
Roy says the homes in demand are the ones priced between $100-200,000. He says on average the owners of these houses bought them about 4 years ago and he says now the time to sell. Not only because the prices are stable, but because interest rates are historically low. "That's why we are encouraging those people that already own there home in the lower price points to move up because that's where we have the shortages and until these people start moving, we are not going to be able to replenish that market."
And according to census data, the Tri-Cities will continue to grow for years to come. "Now that nationally and locally the economy is strong we are expecting our sales to increase, this year right about 10%, with another 10% in 2012 and 2013," said Roy.