KNDU speaks with people living in Japan
Posted:
Updated: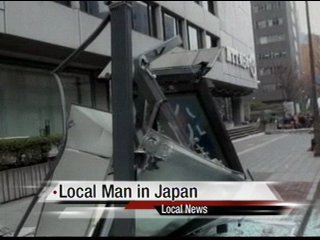 KENNEWICK, Wash.—KNDU spoke with people who live in Japan and felt the effects of the 8.9magnitude earthquake and tsunami.
Most of the people KNDU spoke with say the initial hit of the earthquake was no surprise, because they often feel quakes. Michael Martin, a man from Chewelah, says he works in Utsunomiya about 76 miles outside of Tokyo. He was on the job when the quake hit and yelled for his co-workers to run outside.
"The building was shaking incredibly. Big metal doors shaking and banging around, had a forklift in the parking lot and that was banging around. We almost lost our footing several times just the way the earth was moving underneath us and we were on asphalt," says Michael Martin, lives in Japan.
Martin says he has been getting a hold of friends and family in the Tri-Cities and other part of Eastern Washington to let them know he is not inured. However, he is still concerned about the constant aftershocks.
"I think everyone is pretty much on edge with regards to the aftershocks. They just seem like never ending just for hours and hours on end. It would shake and just when you thought ok it's done another one hits," says Martin.
Martin says just 100 miles from him is a nuclear reactor and with the continual aftershocks he says he doesn't know if he should pack a bag and leave.