CWU prof. uses earthquake as learning tool for students
Posted:
Updated: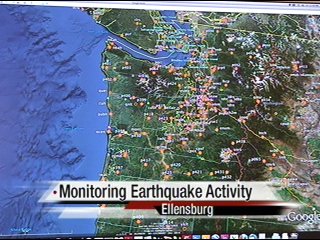 ELLENSBURG, Wash. -- Although he can't predict earthquakes, a Central Washington University professor is using technology to collect data to better understand earthquakes.
CWU professor and director for Pacific Northwest Geodetic Array, Tim Melbourne showed KNDO maps and tools they use at Central to monitor earthquakes. A lot of the information experts share are via computers and the Internet. Melbourne took us through a virtual world tour of Japan and North America using Google Earth.
Melbourne says they use GPS receivers to monitor crustal deformation. There are hundreds of these receivers across California, Oregon, Washington and Canada.
The Japan quake was an 8.9 magnitude and approximately 12 miles beneath the Earth's surface. Melbourne says if an earthquake like that took place off the Central Coast of Washington, it would obviously have devastating impacts to the metropolitan areas. The Central Washington area would also feel the impact, but not as much destruction.
"At least where I live, most of these buildings will be fine. They might be damaged. There might be cracked facades. The old 100-year-old reinforced, brick buildings in downtown Ellensburg or Yakima, they'll probably be damaged. They'll collapse," Melbourne said.
Melbourne says the Japan quake is a great example of why more structures in our region should be built to withstand seismic shaking. He explained how Japan has been well prepared to deal with earthquakes. Melbourne understands the cost is much higher to build structures that can withstand earthquakes.
He adds that Washington State experiences hundreds of earthquakes each day. They're just so deep beneath the earth that they're not that noticeable and too small to really measure, he explained.
Melbourne notes the Japan quake was devastating, but he also says this was a great opportunity to share and teach his students about earthquakes and how they monitor activity using the data they're able to collect.
The last significant earthquake to hit Washington state was the 2001 Nisqually Quake, which measured at a 6.8 magnitude quake. It did minor damage and lasted about 45 seconds. Melbourne says the reason for the damage to be so minimal was due to the fact the earthquake was about 30 miles beneath the Earth's surface.
For more information about Prof. Tim Melbourne and his research, click on the following link: http://www.geology.cwu.edu/facstaff/tim/. Melbourne also works closely with many universities across the country, as well as the U.S. Geological Survey.