WSU Prosser removes viruses from fruit trees
Posted:
Updated: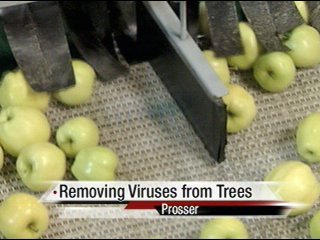 Prosser, Washington. -- In the last few years a lot of new varieties of apples have come out, but before they hit store shelves they have to go through a special process at the WSU Center in Prosser.
Since 1955, the National Clean Plant Network and it's predecessors have helped the country's Agriculture Business compete internationally. The main goal is to protect specialty crops from the spread of harmful plant diseases. "The consumer is the big benefactor of this program because they have access to a lot more fresh fruit that's produced in the U.S. and a lot more diversity in terms of varieties of fruit they have access to," said Ken Eastwell, Fruit Tree Director for the National Clean Plant Network.
The virus-free trees also benefit nurseries and growers. Although they're a little pricier, the fruit trees assure quality crops each season. "With these new technologies we are able to release material in as little as 8 months now and so what that means is our growers have access to all this material much quicker than they ever were in the past," said Eastwell.
Here's the process, bud wood from around the country gets grafted onto a virus sensitive tree then wrapped with a budding band so they'll grow together and after two to three weeks you can tell if the plant is infected with a virus. If so, it goes on to heating therapy and placed in 100 degree heating chambers. "After 50-70 days, I take a tree out of the heat therapy and I take a small tip. I then graft it onto a virus free wood stock," said Jan Burgess, Heat Therapy Specialist.
As the plant grows, the virus is left behind and after a series of tests that take 2-3 years they are released to growers and nurseries. "We're constantly diluting out all the virus infected plants and so over the last 55 years, the general health status of our industry has improved dramatically," said Eastwell.