CWU students in Japan and on campus affected by disaster
Posted:
Updated: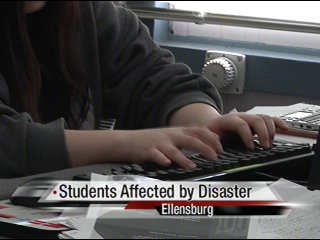 YAKIMA, Wash- Four Central Washington University students are studying in Japan. As of this evening, the University has accounted for all of them.
The Director of the international Studies Department Dr. Michael Launius reports that they are all safe and sound. However his staff does have their hands full focusing on the 141 Japanese students studying in Ellensburg.
"Our primary focus right now is to try to make sure that we find out from the Japanese students residing here just how much help they need from us to try to reconnect with family, their host institutions, friends…", says Launius.
For many of those students, the last 22 hours have been nerve wracking.
"I couldn't sleep at all last night", says Miki Sato.
"So, so worried. Many of my friends are living in Tokyo right now", adds Takako Fuji.
Fuji has been glued to the computer since she heard the news. She has studies at Central for the last three years and is scheduled to return home at the end of the month when she graduates. Her family lives far from the disaster zone but she was still unable to get in touch with them for most of the night. She's since found out that her relatives are okay, but a friend of hers, a Seattle native and Central grad was living in the disaster zone.
"I haven't heard from her since the Tsunami hit so I'm so worried whether she's safe or not", worries Fuji.
Sato's family lives near the epicenter of the earthquake. She's been a student at central for the last six months and plans to stay until summer. Although her family suffered damage from the quake, their inland location saved them from the tsunami. But with the poor communication systems there are still a lot of unknowns.
"All I can do is just wait for my family, I just want to know what happened in Japan", says Sato.
Neither Fuji nor Sato have actually talked to their families, but they've communicated through email and Facebook. Central's International Studies Department says there are still Japanese students who have not even been able to do that.