SPU Shocks Central, 76-63
Posted:
Updated: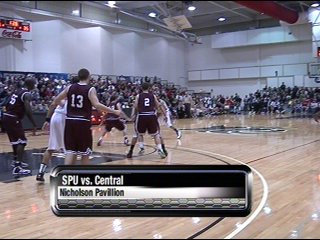 ELLENSBURG, Wash. -- Freshman David Downs scored 22 points, including eight in a row late in the contest, as eighth-seed Seattle Pacific stunned top-seed Central Washington 76-63 to complete the opening round of the NCAA Division II Men's West Regional basketball tournament Friday at Nicholson Pavilion.
It was a day of upsets as the top three seeds all lost. Fourth-seed Dixie State was the only higher seed to survive as it defeated fifth-seed Chaminade 92-81.
Dixie will now take on Seattle Pacific in Saturday's second semifinal game at 7:30 p.m. The first semifinal game at 5 p.m. will match sixth-seed Alaska Anchorage which ousted third-seed Humboldt State 76-70 and seventh-seed BYU-Hawaii which eliminated No. 2 Cal State Dominguez Hills 83-76.
Downs made six of eight shots, including five of seven three-pointers as he combined with his brother Jeff to score 42 of SPU's 76 points. Jeff Downs ended up with 20 including 10 from the foul line.
Also in double figures for the Falcons, who cashed in on nine of 18 three-pointers, were Ryan Sweet with 13 points and Modou Niang with 11.
Jamar Berry (Tacoma, Wash./Franklin Pierce HS) led Central Washington, which had beaten SPU twice during the regular season, with 16 points. The Wildcats, who made just seven of 31 three-point shots, also got 12 points from Chris Scott (Las Vegas, Nev./Bonanza HS) and 10 from Jody Johnson (Seattle, Wash./Franklin HS).
Seattle Pacific scored 13 straight points midway through the opening period in building a 27-13 lead. Jeff Downs, Riley Carel and David Downs all hit treys and Jeff Downs added two foul shots. Ryan Sweet then finished off the run with a dunk shot.
The Falcons later went up by 18. Central closed to within 10 late in the period, but the Falcons got a three-pointer and a lay-up by Jeff Downs in the final 15 seconds to lead by 15 at the break.
Central managed to climb back to within five points in the second half as Jamar Berry hit a three-pointers with 8:35 remaining and Scott added two free throws at 7:47.
But, David Downs then took over getting two free throws at 7:33, then hitting back-to-back treys at 6:18 and 5:10 to give SPU a 13-point lead at 61-48. Central never got closer than nine the rest of the way.
Central forced the Falcons into 21 turnovers, but SPU had a 25-14 advantage in points off turnovers including 16-2 in the first half.
"We've lived all year on getting points off turnovers, but we just couldn't capitalize; we just couldn't finish the deal," CWU coach Greg Sparling said.
Seattle Pacific (20-9) also finished the contest with a 25-7 edge at the foul line where they made 25 of 37. Central, which finished its season with a 26-4 record, was just eight of 10. COLLEGE MEN'S BASKETBALL WEST REGION NCAA DIVISION II NCAA DIVISION II MEN'S BASKETBALL WEST REGION TOURNAMENT Seattle Pacific 76, #5 Central Washington 63
SEATTLE PACIFIC (20-9) -- Downs, David 6-8 5-7 22; Downs, Jeff 4-11 10-11 20; Sweet, Ryan 4-8 4-5 13; Niang, Modou 3-5 5-7 11; Poling, Andy 2-5 1-5 5; Carel, Riley 1-3 0-0 3; Morse, Scott 1-5 0-0 2; Moll, Kellan 0-1 0-2 0. Totals 21-46 25-37 76. CENTRAL WASHINGTON (26-4) -- Berry,Jamar 4-10 4-4 16; Scott,Chris 4-16 2-2 12; Johnson,Jody 5-10 0-1 10; Harris,Drew 3-7 0-0 7; Sprinker,Chris 2-3 2-3 6; Clyde,Roby 2-2 0-0 4; Gibler,Coby 2-4 0-0 4; Perez,Humberto 2-9 0-0 4; Lieser,Philipp 0-0 0-0 0; Nelson,Ted 0-0 0-0 0. Totals 24-61 8-10 63. Halftime--Seattle Pacific 40, Central Washington 25. 3-point goals--Seattle Pacific 9-18 (Downs, David 5-7; Downs, Jeff 2-5; Carel, Riley 1-2; Sweet, Ryan 1-2; Morse, Scott 0-2), Central Washington 7-31 (Berry,Jamar 4-9; Scott,Chris 2-10; Harris,Drew 1-4; Perez,Humberto 0-6; Sprinker,Chris 0-1; Johnson,Jody 0-1). Fouled out--Seattle Pacific-None, Central Washington-Johnson,Jody. Rebounds--Seattle Pacific 38 (Sweet, Ryan 8), Central Washington 31 (Sprinker,Chris 10). Assists--Seattle Pacific 13 (Downs, David 3; Poling, Andy 3; Carel, Riley 3), Central Washington 11 (Harris,Drew 5). Total fouls--Seattle Pacific 15, Central Washington 30. Technical fouls--Seattle Pacific-None, Central Washington-Perez,Humberto. Att--2519.
2011 NCAA Division II Men's Basketball West Region Tournament Quarterfinal
NABC/Division II Rankings: SPU (NR), CWU (#5)