White Swan slowly progressing one month later, Yakama Nation says
Posted:
Updated: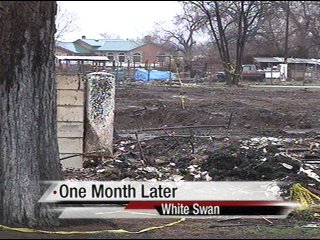 WHITE SWAN, Wash. – One month after a fire destroyed 20 homes on tribal land, the Yakama Nation says its making progress slowly and has accomplished a lot in starting the rebuilding process.
"We still have people that are homeless and don't have these possessions yet," said Harry Smiskin of the Tribal Council. "The tribal government is working to reestablish those homes and we're working very diligently at that."
Victims of the fire are still depending on family and friends or staying in hotels. The Nation estimates it has raised half of the $2.8 million needed to rebuild, a revised figure that is significantly less than initial numbers.
"We feel that in another month you're gonna see a lot of positive changes in that realm that we have stepped forward," said Smiskin. "Everything that we can conceivably do."
Later this week the tribe expects mobile homes to arrive that will be placed west of the homes destroyed by the fire.
"I wouldn't wish this kind of catastrophic event on anybody," he said. "It's a challenge to not only us as individuals but as a government too."
No state or federal funding has come through to the Nation yet but more than 30 volunteer organizations are still working in the area to help victims.
A request has been sent to President Obama to make a federal declaration on the disaster area that would allow for funding from U.S. government.
Smiskin says the fire was a test that the tribe is still learning from one month later.
"We do have weak spots in our system that we need to tighten up and work on to improve," he said. "We're making those improvements as we go along now."