Dayco installing residential wind turbines
Posted:
Updated: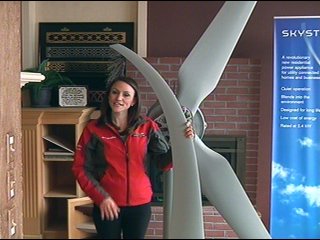 KENNEWICK, Wash.-- One company in the Tri-Cities says it's ready to install a wind turbine in your yard. Dayco Heating & Air Conditioning has debuted jets new product: residential wind turbines.
"It's basically like the ones you see on Jump Off Joe, just on a smaller scale," explains Mike Durkee, Electrical Manager for Dayco. He says Dayco is ready to install the Skystream 3.7, a made-in-the-USA residential wind turbine. Dayco hasn't installed one yet, but already has two orders. He says installation will be easy- it'll be 2 days on site with a 28 day period in between for the concrete foundation to cure.
The wind turbine, once fully assembled and erect, will stand just over 50' tall. The blades are about 6', the center is 1', and the pole is 45' tall.
"It'll start spinning at 6 mph, which is a small breeze for our area. You'll start producing power at 8mph and we can go all the way to 60mph," says Durkee. It's rated for 2.4 kilowatts of electricity. That's not enough to power your whole house, but is enough to help out and lower your power bill. Durkee explains, "If you're just sitting around at night watching TV and have some lights on, it can run all that and then some."
Durkee says right now is a good time to buy a residential wind turbine because of many incentives from the Federal and Washington State Governments. "You get paid [from the state] 12-cents per kilowatt hour that you generate. Plus, you get to use the electricity, and along with that, right now Washington has no sales tax on this until the end of June, and there's a 30% Federal tax credit on the total installed cost," says Durkee. "What's cool about it is if you're not using the power that you're generating, it spins your meter backwards."
Dayco says you need to have at least 1/3 acre of land to get a turbine installed on your property. You also need to have the right permits & be in the right wind zone. The Skystream 3.7 will most likely cost between $17,000 and $18,000, but Dayco estimates it'll pay for itself in 8 to 10 years. The first two residential wind turbines in the Tri-Cities are scheduled to go up this spring, once the weather improves and Dayco and the property owners get all the necessary permits from the County and PUD.