Crisis in Japan affecting wheat industry
Posted:
Updated: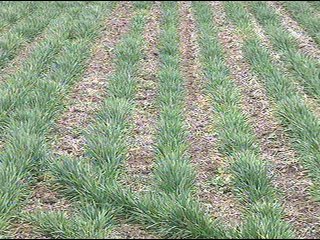 NEAR PASCO, Wash. -- Many people, including farmers are keeping an eye on Japan. The country is a big customer for our local growers, especially when it comes to wheat.
It's too soon to tell what impact the disaster in Japan will have on wheat and the farmers and industry that depend on it. But one Franklin County farmer says he's already seeing the effects of overseas disasters on wheat, "from $8.15 to $6.00, that's quite a drop considering everything else has gone up like diesel," says wheat farmer Walter Neff.
A hit in the wallet is what farmers like Neff and others are looking at because of the crisis in Japan and the impact it has on shipping and exporting to the country.
"My cost of raising wheat is $5.30 a bushel and when you have to turn around and sell it for $6.00, there's not a whole lot of profit," explains Neff.
Not a lot profit in an industry where one of their biggest customers is Japan. "Japan is our number one customer for pacific northwest produced wheat they take 20 percent of our total production average each year, so they are of extreme importance to us," says Tom Mick, CEO of Washington Grain Commission.
With that kind of impact, farmers like Neff say it effects everyone, "This has a domino effect on everybody and everything. What's going on affects you, and me, and affects everybody in town, the consumer."
It's unclear what the full financial impact of the Japan crisis will have on farmers like Neff, but he says he plans on harvesting his crop by July and he's hopeful the price for this crop will rebound by then.