Local law enforcement agencies want to buy expensive dive robot
Posted:
Updated: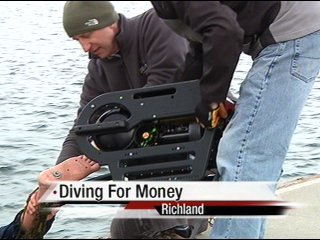 RICHLAND, Wash. -- Franklin County deputies are hoping to raise enough money to buy a new member, one that can pitch in it's efforts for the Columbia Basin Dive and Rescue team, The SARbot, short for the search and rescue robot. SeaBotix, worked closely with a dive search and rescue team to develop the special remotely operated vehicle.
$100,000 for the equipment, training and upgrades is needed. Just between Benton and Franklin Counties, there have been 8-10 drownings this year alone. "Today it was able to locate, attach to and retrieve the victim back to the pier in less than seven minutes," says Brown, "we're going to ask for community support on this because search and rescue budget is very limited in resources. And most of our search and rescue is volunteer time," says Brown.

The sonar technology is like an ultra sound and it can see much larger, we can see 150 feet in front of us depending on what it is we're looking for," says Jesse Rodocker the marketing director for SeaBotix. The SARbot has a claw that can grasp and pull up to a thousand pounds.
Dan Blasdel, the Franklin County Coroner wants Benton and Franklin Counties to pitch in with neighboring communities for the robot. "In the past where it's taken so long to do the recovery that we weren't able to revive those victims that's the most important thing, the other thing is for closure for the families.
Blasdel. He says he hopes to see non-for profit agencies come together, bake sales from the community and general donations.
"This technology is not just for our office or even the Tri-Cities. It's going to be able to travel anywhere the dive rescue team goes to perform a variety of search and rescue missions, pretty much anywhere there's a body of water within driving time," says Brown.
If you're interested in donating, contact the Franklin County Sheriff's office at 509-545-3510.