$90 million expansion plans for Legends Casino
Posted:
Updated: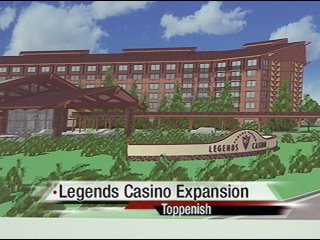 TOPPENISH, Wash. -- Yakama Nation tribal leaders Thursday officially announced the $90-million Yakama Nation Legends Casino expansion project.
KNDO first told you about the expansion last week, after members of the General Council overwhelmingly approved the project back on March 8th.
The Legends Casino project will include a new, 200-room, 6-story hotel, a 5,400 square foot convention banquet, new swimming pool, added gaming room and a child care center. In addition to the hotel, they plan to build a 4-story parking garage to accommodate 750 vehicles.
The casino currently employees over 670. Leaders say the expansion will create between 150 to 200 new jobs for the area.
"In reality, the Yakama Nation is going to have Indian preference, Yakama Nation preference. And so on, and so forth. If there's any job opportunities that is further, then that's something that our HR department would handle," said Leon Thompson, Vice Chair of Legends Casino.
The expansion project will generate between 20 to 30-percent in increased revenue for the casino, according to Thompson.
Tribal leaders say the project will be in several phases. At this time, they're working on securing the funding and will begin taking bids on the construction project.
The architect firm working on this project is Bergman Wells and Associates, based out of Las Vegas, Nevada.
Leaders say they hope to complete the hotel and casino project by late summer or early fall of 2012. Groundbreaking for the project is scheduled for May 16.