Richland students intern at Kadlec
Posted:
Updated: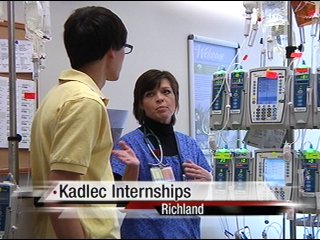 RICHLAND, Wash.—A high school or college degree isn't enough to land some jobs. More people than ever are doing internships to get hands on experience. KNDU discovered Kadlec Regional Medical Center offers a program for high school students in Richland.
Kadlec employees say not only do the study benefit but so does Kadlec Regional Medical Center. By getting students interested in the medical field early they hope the teens will follow in the footsteps of nurses, doctors and other medical personnel.
The Kadlec Healthcare Internship program allows students from Richland high schools to learn about different career opportunities. 16 students from Hanford and Richland high schools spend 74hours over four months learning about the medical field. The program is so popular that seven students compete for every one spot.
"Each day I get to hang out with someone new usually a nurse or somebody, and it's basically like the ultimate job shadow," says Matthew Gadbois, Kadlec Intern.
"I think it's a priceless experience in terms of personal exploration in making decisions about how to proceed after high school," says Mary Kaye Hergert, Career Specialist.
Kadlec employees say they hope job shadowing will bring interns back to the hospital once they graduate. Mary Kaye Hergert, Career Specialist, says more than half of the students who intern end up going into the medical field.
I've been accepted to a college school of nursing, and so I'm now thinking about what I would want to do after that," says Matthew Gadbois, Kadlec Intern.