Ams Snap 5 Game Losing Streak to Chiefs
Posted:
Updated: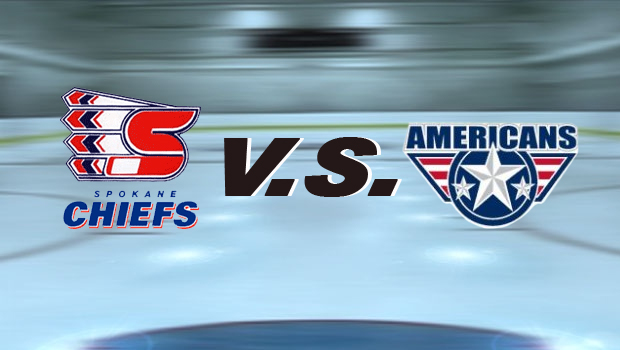 Kennewick, WA---
The Spokane Chiefs saw their season high nine game winning streak come to an end with a 6-4 loss at Tri City Saturday night. Coupled with Portland's win over Seattle, Spokane will the #3 seed in the Western Conference Playoffs.
Spokane jumped out to a 1-0 lead at 6:19 of the first period as Dominick Uher scored his 21st of the season on the power play from Levko Koper and Brenden Kichton. Tri City would even the game at one on a Tyler Schmidt goal on a 4-4 at 10:07 of the period. Tri would take the lead just 43 seconds later as Kruise Reddick scored on a breakaway at 10:50 to make it 2-1 Tri City. Reddick would score his second of the period at 15:49 on another 4-4 to give the Americans a 3-1 lead. Blake Gal's power play goal at 19:03, his 23rd of the season from Steve Kuhn and Davis Vandane, cut the Tri City lead to 3-2 after the first period.
Spokane would tie the game at 3 on Anthony Bardaro's power play goal at 14:37 of the second period. Bardaro's 22nd goal of the season was assisted by Kichton and Tyler Johnson. Tri City would score two power play goals at 19:03 and 19:31 to take a 5-3 lead after two periods.
Johnson's league leading 52nd goal of the season while the Chiefs net was empty at 17:42 of the third period brought the Chiefs within 5-4. Jared Cowen and Bardaro got the assists. Tri City would clinch the win though with an empty netter with just 6 seconds left to secure the win.
Spokane will finish the regular season Sunday at 5pm at Portland.