Car buying source says wait before trading car
Posted:
Updated: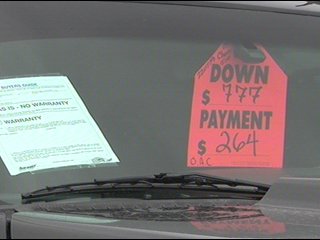 KENNEWICK, Wash. -- Everyone's watching gas prices, but nobody more than the Candido's who simply can't afford to fill up their ford expedition anymore.
Francisco and Victoria Candido pay between $80.00 to $85.00 each time they fill up their tank.
When prices rise as dramatically as they have, car dealerships begin to see a flood of people looking to shed their hulking vehicle for something more cost effective and the candido's don't expect prices to drop.
"Hopefully it does, but I doubt it, I think it will stay up for quite a while I mean I guess we're trading it in, because we need to save on gas now," explains Francisco Candido.
Ask anyone with a large vehicle and they'll tell you, filling up at the pump can be a pain, but the real question is with gas prices not going down anytime soon, should you really hold on to your gas guzzler ?
" The demand and supply fundamentals in place dictate that gas prices really aren't sustainable at their current levels, and gas prices should come back down," explains Alec Gutierrez of Kelly Blue Book.
Kelly Blue Book is telling consumers to wait based on history. While prices skyrocketed in the summer of 2008, they fell back down in the winter months.
You would think car dealerships like Clearwater Auto Plaza would hate what Kelly is saying, but when it comes to 4 x 4's, waiting for their value to increase may be the right choice.
"All of our surrounding areas, we get a lot of heavy weather so the 4x 4 definitely will have on influx in price during the winter time," says Justin Henning, General Manager of Clearwater Auto Plaza.
Francisco and his wife Victoria aren't waiting 'til the winter.
" Hopefully by the end of this week, it will be gone. We won't have to fill up again."