Energy Northwest shows how they monitor radiation for power plant
Posted:
Updated: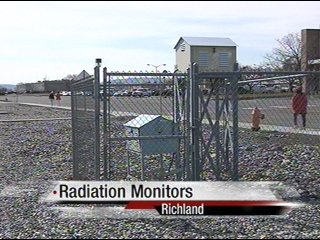 RICHLAND, Wash. -- Energy Northwest in Richland is one of the many places required to test their air, water and vegetation.
The WA Department of Health monitors their findings with their own air sampling meters. The DOH has 12 meters, some overlapping where Energy Northwest Stands.
"Every two weeks staff go out and go to each of these monitors and they actually change out the filter paper on the intake of the monitors, and then the filter paper is sent to the state lab in Seattle where it's tested," says Earl Fordham, The Radiation Protection Deputy Director for the Washington Department of Health.
Energy Northwest has 113 sampling locations. 107 are with 10 miles of the Columbia Generating Station, Washington's only nuclear power plant. Six are outside the 10 mile range of the plant. They also have 12 air sampling monitors, and the control one is outside Grandview, away from the plant.
"The staff monitors radiation impact from the nuclear plant is by putting their control air monitoring location outside Grandview. "We don't really expect having any impact on the air in Grandview, its 28 miles away, and that way we can decide if the impact is just from CGS or Hanford or some other event.," says David Mee, an Environmental Scientist at Energy Northwest.
Energy Northwest monitors not only the air particles with their meters, but vegetation,milk, drinking water, fish and soil-sediment, They are required to do so by the Nuclear Regulatory Commission .The results are evaluated and are public information.
Tuesday's air monitoring results did show a slight change in air particles but they say it's slight and not harmful to a person's health.
Energy Northwest also has 79 TLD's -- A thermo luminescent dosimeter, used to measure exposure to radiation. Employees also wear these monitors on their name badge tags.
"In the 20 years I've been here, I think there's only been one time that I've gotten above what would be the background level for that dosimeter," says Mee.
To see air sampling readings from the WA Department of Health, click here.
To see air sampling readings from the Environmental Protection Agency, click here.