Highway 12 getting changes to reduce accidents
Posted:
Updated: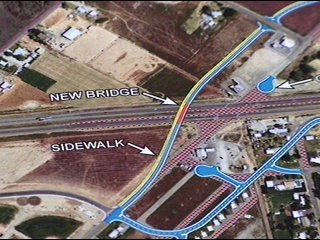 BURBANK, Wash. -- Big changes are coming to Highway 12 in Burbank. The stretch of road between State Route 124 and Humorist Road has seen its share of accidents and crews are ready to get to work.
"We've had way too many accidents and especially at these two intersections locations and we are going to be improving safety tremendously after this project is completed," says Moe Davari of the Washington State Department of Transportation.
Construction crews and Washington Department of Transportation officials evaluate the old Francisco's restaurant before tearing it down. When the space is cleared, an overpass will be built there, one of two along Highway 12. But this is more than construction, this is an effort to save lives.
"We've had 3 fatalities through the years that have involved employees of the years that have involved employees from the mill. I don't know for sure if they're at these interchanges or not, but certainly in this region," says Nick Nachbar of the Boise Paper Mill.
Workers from the mill aren't the only ones that will be affected, the dangerous intersections also touched the Walla Walla County Sheriff's Office when Deputy Mike Estes was killed in 2007.
In the last ten years, there have been 6 fatal accidents between the two intersections. And in the last five years, there were 27 accidents at Humorist Road, and 45 at U.S. 124. Most of them have been drivers rear ending others, and many are happy to hear changes are coming.
"Well, I think over the last 10 years, the statistics speak for themselves. There's been 122 accidents between the two intersections. And when you take a look at for example driving from Walla Walla to Seattle, there's only two intersections, and they're right here," explains Walla Walla County Sheriff John Turner.
Some construction work has already started. Starting tomorrow, crews will close the left lane in each direction from 7 a.m. to 4 p.m.