Selah schools will try again to get a bond passed
Posted:
Updated: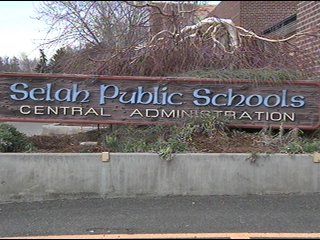 Selah, Wash- Selah is the only school district in Yakima County whose school bond measure did not pass in February, but they're giving it another try next month.
In April the Selah schools will again attempt to get voters to support upgrades to their campuses. In February the bond proposal came up two points shy of what it needs to pass. So this time around the district is trying to register more voters, and clear up some misconceptions.
"There was some confusion, is there a double payment? There is no double payment. If the bond is approved it'll be $1.98 for 21 years and that includes the last two years of the Selah intermediate school bonds", says superintendent Steve Chestnut.
The bond would fund a new junior high school, expand and improve the high school, improve parking for safety, and update technology at all of the campuses.
The auditorium at Robert Lince Elementary is a prime example of some of the facilities issues that Selah schools face. Since the beams failed, the auditorium has been unusable, and there's no other option in the district. At this point it would be more expensive to fix them than to replace them. Also things like inefficient heating and cooling, exposed wires, and facilities that are just plain old are the concern.
The district is relying on about $19 million in matching funds from the state, money that's at risk given the budget deficit. But Senator Curtis King says recent talk indicates that money may be available.
"…But how much is there and how many schools are going to get a part of it, we just don't know", says King. However even the availability so some capital funds for school bonds is not certain at this point.
But chestnut says that even if the funds are delayed, or don't come at all, the 40 million dollars from taxpayers is enough to complete some of the plans.
"We can move forward on the biggest project which is the building of our junior high school and just finish the other projects when the state funds are available", reasons Chestnut.
Special elections aren't free. This one is costing the school district about $20 thousand. But if the bond passes, they'll consider it money well spent. For more on the Selah School District Bond call (509) 697-0707 or visit www.selah.k12.wa.us.