Fever's Lillard Has Jobs All Over the Place
Posted:
Updated: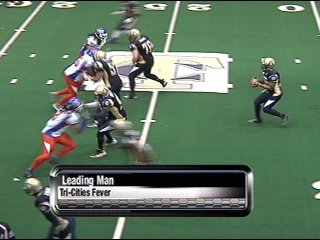 KENNEWICK, Wash. -- Tri-Cities Fever Quarterback Houston Lillard has been making it look easy this year on the field and that is all while keeping up a very busy schedule outside the game.
In his second year in the Tri-Cities, Lillard is the full time starter under center. In just 3 games this season, Lillard ranks 2nd in the Indoor Football League in touchdown passes with 17.
"Houston is a great quarterback," said Fever Receiver Steven Whitehead. "He's very smart. He's very savvy. The thing that I like most about him is he's very low key."@
"I think there are a lot of eyes on Houston Lillard around this league right now," said head coach Adam Shackleford. "Whether he's a good quarterback in this league or a premier quarterback in this league, I think he has the ability to be the latter."
The more significant number for the Fever is 2. Lillard is 1 of 2 players that has a job outside of football. In fact, he works two jobs and takes an online class.
"I figured that this year I would try something new and give myself more responsbility," Lillard said. "I majored in general studies and got a minor in sports management, but I didn't finish a class. Right now, I'm trying to finish that. I know I want to work with kids. That's something that motivates me the most. It's fun for me."
His jobs and class help build a bright future outside of football. But while he's still inside the lines, Lillard will lead the Fever.
Tri-Cities next game is Friday night at Omaha, where they'll try to improve to 3-1 on the year.