Landmark settlement for sex abuse victims
Posted:
Updated: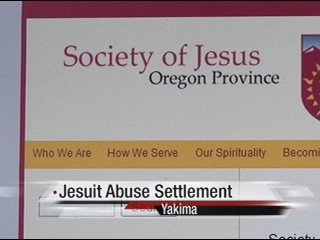 YAKIMA, Wash. -- A Yakima law firm takes on the largest religious order settlement in history; resulting in Northwest Jesuits to pay $166.1 million to abuse victims.
The settlement involves approximately 450 victims who were sexually abused as children by Jesuit Missionaries in Washington, Alaska, Idaho, Montana and Oregon between the 1940's and 1990's.
This is the largest settlement between a religious order and sexual abuse victims in the history of the United States, paying $166.1 million. The settlement will also require the Jesuits to provide a written apology to the victims, and produce documents regarding their knowledge of the abuse that took place on their watch.
Attorney Bryan Smith with Tamaki Law described the settlement Friday against the Oregon Province of the Society of Jesus, based in Portland. Tamaki Law represents 90 sexual abuse survivors in the claims against the Jesuits.
The majority of the abuse took place in Jesuit operated mission schools, boarding schools, and on Indian reservations in the Pacific Northwest and Alaska. Some Jesuits abused children while stationed in dioceses throughout the Northwest.
We spoke to Kathy Mendez, of Yakima, who is now in her 50's. Mendez says her abuse started at age 11. She was living at the St. Mary's Mission, a boarding school in Omak.
"Eventually got called into his office. He would send other children for me to tell me 'Father Morse wants to see you' in the office," Mendez said. "I kept the sexual molestation hidden in the dark, in my soul, for years and years. Finally, when I came forward and saw that others did too, it was as if the blanket that had hidden our secret was pulled off and we could move into the light again."
According to Tamaki Law, 38 of the claims involve sexual abuse by Father John Morse. Morse currently lives in a retirement facility operated by Gonzaga University and financed by the Jesuits.
The Province has already settled 200 claims, then filed for bankruptcy. We contacted Province leaders today but they would not comment.
Smith says this case involves victims in remote Indian Reservations, and believes more will come forward.
"I think this settlement is just the tip of the iceberg in what Native Americans have endured," explained Smith. "And, I think the stories are going to continue to be told."
Today's announcement meant closure for a lot of the victims involved.
"I just, you know, like 'oh finally' maybe I can live a little," Mendez said.
Tamaki Law say they represent more abuse survivors than any other law firm in the lower 48 states. Tamaki Law currently has a lawsuit pending with the Yakima Diocese on a church sex abuse case, but declined to go into details at this time.
Final court documents are expected to be completed next week.