Everyday radiation exposure
Posted:
Updated: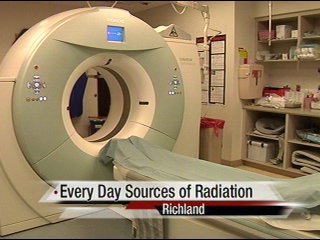 RICHLAND, Wash. -- What do smoke detectors, cigarettes, X - rays, and cat scans all have in common. They all contain levels of radiation.
"The amount of radiation that most people receive in medical imaging is very low, even for cat scans in terms of life time risk of them developing cancer or other problems from radiation," explains Dr. Shawn Jones, of Kadlec medical center.
Jones' message is that certain treatments like x-rays and cat scans pose no threat towards your health. There have been questions about radiation exposure.
Here's a breakdown of what you're facing. Depending on where you live, we receive 360 millirems of radiation every year. And around 2000 millirems from a single cat scan. Typically a patient can get 10 millirems from a single x-ray.
But in reality, these amounts come no where near the 1 million millirems needed to kill you.
"If you live at sea level, you get less radiation than if you live at say 10,00 feet or higher. If you take airplane flights a lot, the higher you go in the atmosphere, the more radiation you receive because the air blocks out radiation," says Jones.
Despite the negative attention radiation is getting, radiologist like Jones say it's makes their job easier and saves lives.
"A lot of people would fall and hit their head, we used to have nothing that we could do. We would look in their eyes, and see if there's anything wrong. Now, with cat scans we can look at all the soft tissues in the brain."
Doctor Jones insists people should not be worried about x-ray and cat scan treatments. And insists these options are only used as a last resort to diagnose tumors and cancer.