Pacific Power customers to see increase in utility bill
Posted:
Updated: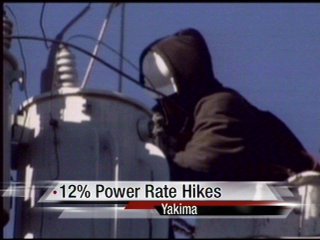 OLYMPIA, Wash. - Pacific Power customers will soon see an increase in their electric bills under a decision approved last week by state regulators.
Beginning April 3, Pacific Power's residential customers will see an average of about 12-percent per month increase in their monthly bills.
The Washington Utilities and Transportation Commission is allowing Pacific Power to raise electric rates by approximately $38 million a year, about two-thirds of the $56.7 million the utility originally requested last May. Offsetting this will be a customer credit of $4.8 million to reflect revenues the company receives from the sale of renewable energy credits from its wind facilities.
The rate increase was driven by increased power costs, additional transmission and distribution facilities, and a natural gas plant in Chehalis deferred from the last rate case. The net power cost increase may be reduced somewhat upon further evaluation required by the commission.
"The commission is mindful that including these costs in Pacific Power's rates requires an unusually large increase, particularly in these difficult economic times," said the three commissioners in their written decision, "The commission recognizes that the company must be able to recover its prudently incurred costs to be able to provide the service on which its customers depend."

Including the REC credit, the Pacific Power average residential customer using 1300 kilowatt hours-per-month will see their electric bill increase by approximately $11.26, for an average monthly bill total of $105.30. The commission rejected Pacific Power's request to raise the basic monthly service charge for residential customers - from $6 to $9 - paid by all customers regardless of the amount of electricity used.
The UTC recently ruled the proceeds from utilities' sale of surplus renewable energy credits (RECs) from renewable energy generation must be returned to ratepayers. By Jan. 1, 2012, Washington's electric utilities must generate at least 3-percent of its load from environmentally friendly renewable energy generation, such as solar and wind. Utilities that have a surplus of RECS may trade or sell them on the open market where the prices fluctuate widely. Beginning April 3, Pacific Power's customers will receive a $4.8 million credit on their power bills for revenues realized from the sale of future RECs.
The UTC approved a 21-percent increase in the funding level for the company's low-income bill assistance program, an expansion of the eligibility criteria so more candidates will qualify, and a reduction in administrative overhead.
Last May, Pacific Power filed a general rate case with the UTC requesting an annual $56.7 million or nearly 21 percent overall rate increase. In subsequent action, the company lowered its request to $48.5 million or almost 18-percent. Not including the credit for REC revenues, the UTC today approved about $38 million, a 14 percent overall rate hike.
The company originally requested the rate hike to pay for new power and gas-supply contracts. Among the major differences between the commissioners' decision and the company's request are reductions in power-supply costs, transmission costs, renewable energy credits, federal income-tax issues and the utility's profit level.
The UTC is allowing Pacific Power the opportunity to earn a 7.81 percent overall rate of return, not the 8.34 percent the company originally sought. The company's currently approved rate of return is 8.06 percent. The utility will have the opportunity to earn 9.8 percent return on equity rather than the 10.6 percent Pacific Power asked for.
The commission has received 297 public comments on Pacific Power's rate-increase proposal - five neutral or undecided, one in favor and 291 opposed.
Pacific Power is a division of Portland, Ore.-based PacifiCorp and is owned by MidAmerican Energy Holdings Co. of Des Moines, Iowa. The company provides electric service to about 130,000 customers in five Eastern Washington counties: Kittitas, Columbia, Garfield, Walla Walla and Yakima. Cities in the company's service territory include Dayton, Pomeroy, Selah, Sunnyside, Toppenish, Walla Walla and Yakima.
The UTC is the state agency in charge of regulating the private, investor-owned electric companies in Washington. It is the commission's responsibility to ensure regulated companies provide safe and reliable service to customers at reasonable rates, while allowing them the opportunity to earn a fair profit.