Death penalty decision delayed for Harper
Posted:
Updated: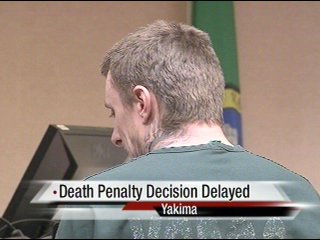 YAKIMA, Wash. -- A decision on the death penalty for accused murderer Kevin Lee Harper has been pushed back to August 1, according to the Yakima County prosecutors.
In release sent out Monday by Prosecuting Attorney Jim Hargarty, Harper appeared Monday in court with his court appointed counsel, Peter Mazzone. During the appearance, Harper filed a waiver of the 30-day time period for the prosecuting attorney to file the notice of a special sentencing proceeding.
Harper also filed a waiver for a speedy trial and request for continuance of the current April 11 trial date. The court set the new trial date for November 7.
Hargarty stated the Prosecuting Attorney's Office agreed to the extension in part to allow time for the investigation to be completed, obtain the results of the forensic examination of evidence, documentation relating to the defendant's prior periods of incarcerations and testing and treatment received during those periods. All of which, Hargarty says are important in making the death penalty determination.
The extension will allow the defense to prepare and file a mitigation package with the prosecuting attorney.
Yakima County Sheriff's deputies arrested Harper on March 2 in connection to the February 18, triple homicide case, where the bodies of William Goggin, his wife Pauline and Goggin's mother, Elizabeth were found in their Falcon Ridge home.