Investigators comb through rubble; look for answers to West Richland fatal fire
Posted:
Updated: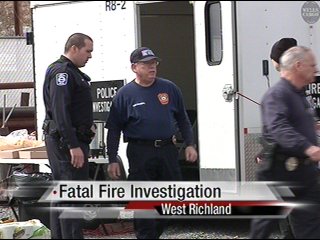 WEST RICHLAND, Wash. -- Still no answers Wednesday afternoon into what caused the March 18th West Richland fire that killed a mother of three. We were hoping to have some answers, but a half dozen agencies spend the day Wednesday sifting through the burned rubble on 407 S. 45th Ave. in West Richland. 26-year-old Sandy St. George died in an early morning fire two weeks ago. Her husband, Thomas St. George was hospitalized, but survived. The couple had three young children who were with a sitter at the time of the fire. Police say the husband has been cooperating with them in the investigation.
The chief says they will work throughout the night until they have a cause for the fire and find where it started. Crews from the Bureau of Alcohol, Tobacco, Firearms and Explosives, plus their accelerant sniffing dog are among some of the agencies.
The burned home and shop are blocked off by crime scene tape, a 24-hour security guard, and a crime scene lab. However, the police chief says at this time, it is not a crime scene.
"Very few agencies have fire investigation vehicles. So we utilize what resources are out there. And Kennewick sent over their crime scene vehicle because it has the types of packaging materials that we would need. And also their lab tech was the one who drove it over," said Chief Brian McElroy with the West Richland Police Department.
Investigators hope to wrap up by Wednesday night. Police are in charge of this investigation until a cause is determined. Chief McElroy says it is not unusual because West Richland doesn't have their own fire department.
West Richland alone has already spent at least $12,000 on the investigation. That is not counting all the other agencies involved.