State ranks high for bridge maintenance
Posted:
Updated: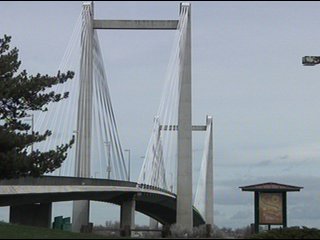 KENNEWICK, Wash. -- According to the Department of Transportation, money is the reason for the state receiving a high ranking for best maintenance and preservation on bridges. Federal dollars have helped the state maintain structures like the Cable bridge.
In the Tri-Cities, we drive over bridges a lot. For many, the strength of the structure doesn't come to mind, until a tragedy occurs. But in a report from Transportation for America, Washington ranked fifth in best bridge maintenance and preservation.
People who drive over these bridges agree with the ranking, "I think the maintenance of those bridges are crucial and they've been taken care of quite a bit locally," says Bryan Dickinson, a tow truck driver for Action Towing.
In Benton and Franklin counties, there are six bridges considered deficient. Compare that to one of the worst county in the state Yakima with 25.
In order to keep these bridges safe, Washington DOT uses $281 million dollars, with $215 million of that federal money. That money comes from a gas tax the state pays into. But the agency is looking at how budget cuts will affect what they do.
"Budgets start shrinking, the amount of revenue that we get starts shrinking we'll have to prioritize those needs and so instead of replacing bridges, we'll have to repair more bridges and we'll see how that works out in the future," explains DeWayne Wilson, bridge engineer for WSDOT.
Professional drivers who use these roads know the importance of safe bridges. "Out in the Nevada area, there are some places that I don't believe there is a lot of maintenance to these bridges and there's a definite securing feeling that here in town, that I feel confident in the structure of our bridges in the tri-cities," says Dickinson.
"I've seen the Minnesota incident and they've had some in California and so on. But over the years, I never felt like it's been an issue," says delivery truck driver Tou Moua.
According to WSDOT, bridges in our area are inspected on a two year basis for inspection.